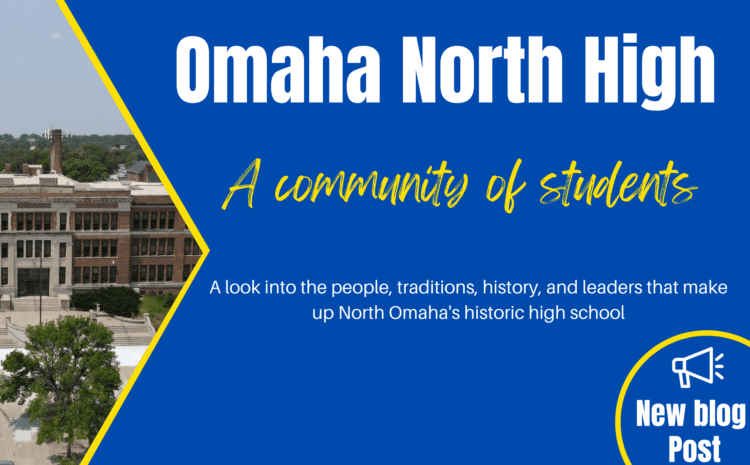 By: EM, a student at the University of Nebraska at Omaha, as part of Heather Nelson's Service Learning Academy class.
Opening its doors on September 2nd, 1924, Omaha North High School has been a pillar of the community in the North Omaha area for almost a century. During its existence, North has seen monumental community leaders, successful alumni, prosperous athletics, modern redesign, and has been a place of community building.
Giving back to the community
Intertwined with the school itself, there are many programs and activities that actively give back to the local community. Student council hosts a variety of activities such as canned food drives, volunteer opportunities, neighborhood clean ups, and annual events. A North High tradition has been the annual Boo Bash that is run by North students, where members of the community can come to trick or treat or participate in other activities such as crafts and games. A central pillar of North's community comes from supporting the football team which has had great success in recent years with 5 state championship appearances in a six-year span. They won three state championships which were in 2013, 2014, and 2017. As a former student, the football games were always the highlight of the week as hundreds of current students and alumni gathered to spectate the games.
Community leaders
North's longtime standing principal and community figure, Dr. Gene Haynes, set a standard for excellence among faculty and students. Haynes served over fifty years in the Omaha Public School system, joining North High School as vice principal in 1987. He then became principal in 2001 where he recently stepped down and retired at the end of 2020. Haynes was well known for not only encouraging and guiding students to be successful inside the classroom, but outside of it as well. He treated each student and family with respect and dignity, and expected their absolute best in return. Any alumni who attended North under Hayne's leadership will be familiar with his famous saying that "North is the greatest high school east of the Rockies and west of the Mississippi".
Vikings of Distinction
As part of an annual celebration, North holds and commemorates former alumni who have achieved success in what is known as Vikings of Distinction. Students of North High can see their portraits hung on the walls throughout the first floor of the building. Students and faculty are welcomed to attend the ceremony where inductees share their life stories from being a student in the very same high school and finding success in the world. North has produced many notable alumni throughout the years including notable scientists, professional athletes, entrepreneurs, and business leaders. This long-standing tradition allows alumni to be recognized for their success, as well as inspiring current students of North High.
A focus on modern education
In the early 2000's North was able to add a new four-story modern addition named the Haddix Center that created classrooms that focused on science, media technology, and engineering. As part of their magnet school status, North has an emphasis on STEM subjects. North offers a more comprehensive math curriculum and a wide variety of Advanced Placement college courses. Students in these classes are provided opportunities to complete projects and meet with real engineering firms and professionals to broaden their learning. The Omaha North High School Foundation has contributed over $500,000 in scholarships to students to help them post high school. North's focus on emerging STEM fields and college classes give students an excellent academic opportunity to succeed in the future.
Overall, North isn't just a high school. It's a place where the community comes to receive an education full of opportunities and be connected to one another for years to come. North High will remain as a place where current and past students are welcomed. A look at the community that North High has impacted can be seen at the Omaha Freedom Festival, which is a celebration of Juneteenth held in North Omaha. The festival will offer a chance for outside members of the community to experience North Omaha culture and bring awareness to local resources.
See Adam Fletcher's article "A History of Omaha North High School": Link