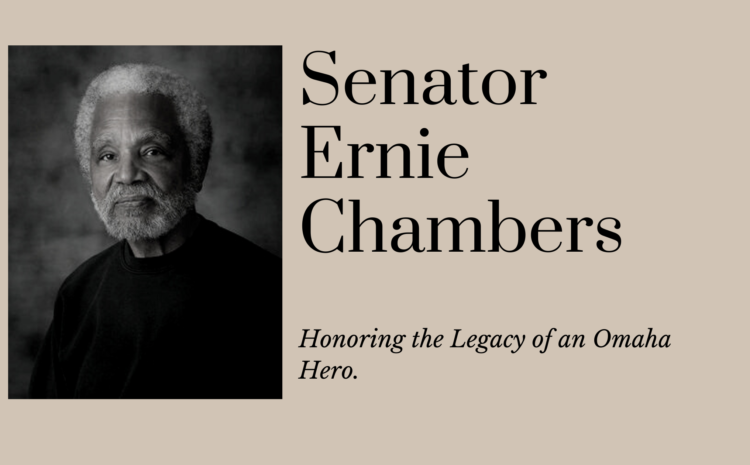 By: N.F., A Student at the University of Nebraska at Omaha, as part of Heather Nelson's Service Learning Academy class.
February is Black History Month – a month where the entire country celebrates the culture, history, and achievements of black people in America. This a month where we especially recognize and honor the courageous trailblazing leaders in our communities who helped create a brighter tomorrow for the current generation, and who spent their lives dedicated to creating inclusive and equitable spaces for all people. Today, I would like to highlight the life and contributions of a true Omaha hero, Senator Ernie Chambers.
Ernie Chambers was born in 1937 and raised in North Omaha where he lived until his death last month on January 6th. Growing up in the 40s and 50s, Senator Chambers was exposed to severe racial discrimination and inequality. At 25, Chambers spoke out against racial discrimination in his workplace at the post office and was fired as a result. Despite the obstacles in his way and the disadvantages he was born into, Ernie Chambers graduated from Omaha Tech in 1955 before earning both a bachelor's degree in history and a law degree in law from Creighton University. He also appeared in the award winning 1966 documentary, A Time for Burning, where he gave an impassioned speech explaining how equality could never exist in America until the white majority did their part in dismantling racism on an institutional level. Chambers was committed to having difficult conversations with the white community that were completely necessary and critical to the progression of society.
However, he did not just stop with influencing the community through raising awareness and educating others. Senator Chambers went on to make history by becoming the first nonwhite Nebraskan Senator as well as the longest serving Senator in Nebraska history. This achievement was so groundbreaking because the black community of Omaha, and specifically North Omaha, was in need of a legislator that would serve their needs and not perpetuate their oppression. Not only was Senator Chambers a voice for the black community, but he also passed legislation that ended corporal punishment in Nebraska public schools, banned executions for juveniles with mental disability, and required grand jury investigations of the deaths occurring within police custody. These are truly remarkable achievements, and an inspiration for all the people who never thought they would see someone who looked like them and had the same experiences as them in a position of power. Although Ernie Chambers has passed, his legacy will never be forgotten. His contributions to not just Omaha, but to the country as a whole will continue to be celebrated as well empower others for generations to come. This summer, Freedomtainment will be hosting the Omaha Freedom Festival on Saturday, June 19th at the Malcolm X Memorial Foundation. This event will be monumental and a moment where the Omaha community can come together and celebrate in honor of the Juneteenth holiday. The memory of many amazing black leaders will be celebrated, and it is a great opportunity to connect with others, educate each other, and unite our city. To learn more about North Omaha history, Senator Ernie Chambers, or the Omaha Freedom Festival, check out the links below for more information.