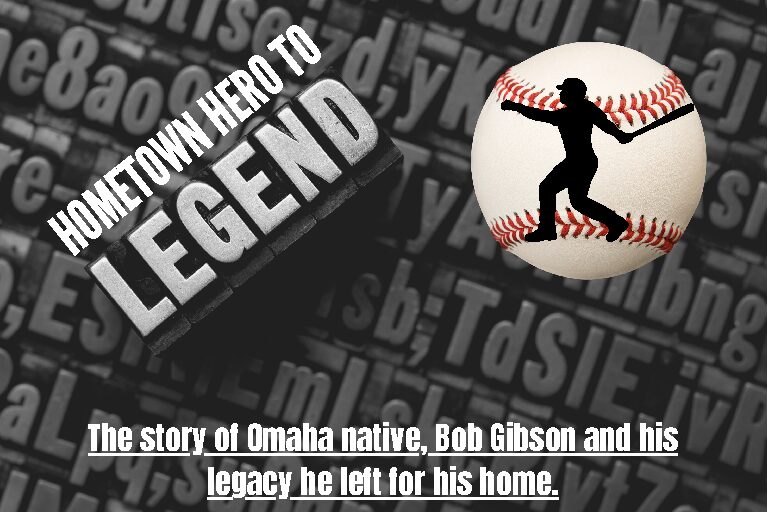 By: Jadon T. Beister, A Student at the University of Nebraska at Omaha, as part of Heather Nelson's Service Learning Academy class.
Growing up with Pack
Pack Gibson, better known as Robert "Bob" Gibson, was born on the upper North side of Omaha in a segregated area in Omaha, Nebraska. Three months after his birth, his father passed away from tuberculosis. Bob's mother raised all seven Gibson children on her own, in a troubled and segregated area in Omaha at the time. Bob attended Omaha Technical High School and played baseball and basketball where he excelled and went on to play for the local Creighton University basketball and baseball team. After excelling in both basketball and baseball for the Creighton Blue jays, Bob had to decide on what he wanted to do professionally. On the court, Gibson was averaging around 22 points a game and was thinking about playing for the Harlem Globetrotters or playing on the dirt diamond with the St. Louis Cardinals. He ended up delaying his time on the diamond and playing one year with the Globetrotters and would soon take a $3,000 bonus to begin playing with the St. Louis Cardinals in Missouri.
The Professional Lifestyle
While going through the process of becoming a professional baseball player in the 1960's, Bob went through a ton of racial tension with teammates and coaches. Bob along with Bill White and Curt Flood would begin a civil rights movement to make all players on the same team not have to deal with racial tension and segregation. This movement is three years before President Johnson signed the Great Society legislation in 1964. After these movements, the St. Louis Cardinals would become the first Major League Baseball team to end segregation. Throughout the 1960s and all the way until 1975, Gibson was absolutely electric in the league. Throughout his career, Bob Gibson won 9x All-Star awards, 2 MLB World Series Champion where he was voted MVP of each, 2 National League Cy Young Awards, and was a 9x Gold Glove Award winner. Many would argue that his greatest accomplishments however are that he is in the Major League Baseball Hall of Fame, the St. Louis Cardinals Hall of Fame as well as a member of the Major League Baseball All-Century Team. Bob Gibson is truly one of the greatest baseball players of all time and has overcome the obstacles that come with it, and he also has the statistics and awards on his resume as well.
The End of an Era
In 1975, Bob returned home to Omaha, Nebraska after turning down a job with the St. Louis Cardinals. When he returned home, Gibson lived a fairly modest life where he served on the board of a local bank, and also started "Gibson's Spirits and Substance" where he would sometimes work 8–12-hour days as the owner of the restaurant. While he thought his baseball career was done, he returned to the game in 1981 as an attitude coach with the New York Mets organization. He would hold many coaching jobs and jobs in the world of baseball such as: pitching coach, commentator, and other emotional support roles in baseball organizations.
In July 2019 Bob Gibson would be diagnosed with pancreatic cancer and would undergo chemotherapy. Gibson would later pass away on October 2, 2020 in hospice care after fighting his underlying pancreatic cancer for over a year. He is an icon for the Omaha community and the world of baseball.