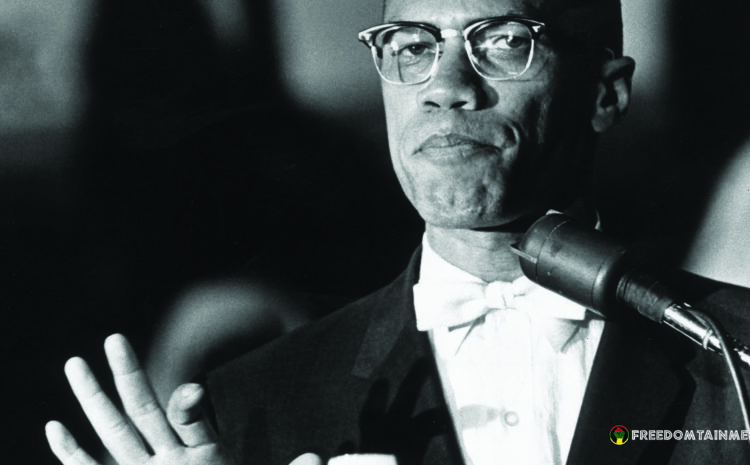 By: WS, A Student at the University of Nebraska at Omaha, as part of Heather Nelson's Service Learning Academy class
Growing up in Omaha, I've always been aware of the national figures born in Omaha and been proud about their accomplishments and achievements in a cool, hometown pride kind of way. While certainly not comprehensive, some of the Omahans that come to mind are:
Warren Buffet
Fred Astaire
Roxane Gay
Terence "Bud" Crawford
Gerald Ford
Ahman Green
Amber Ruffin
Gale Sayers
Gabrielle Union
Marlon Brando
Jojo Siwa
And Many More…
Greatest among these famous Omahans is civil rights icon Malcolm X. Malcolm X's legacy and influence is tough to quantify — an outspoken civil rights leader, deep thinker, and powerful communicator assassinated in the prime of his life. In his archives, Adam Fletcher Sasse has researched and recorded the history of Omaha, focusing on the development and history of North Omaha and influential leaders, entertainers, and businesspeople who have called this diverse and historic area home throughout their lives. One of the many articles Adam Fletcher Sasse has written is a Biography of Malcolm X in Omaha.
Formative Years
The man we know as Malcolm X was born Malcolm Little on May 19, 1925 at his family home near 34th and Pinkney. His parents, Earl and Louise Little were active in fighting against rampant oppression and injustice in the Omaha area and were well known in the community. Less than a year after his birth, threats of violence forced the Little family to relocate to Lansing, Michigan. The peace following was short lived as Earl Little was murdered by white supremacists when Malcolm was six years old, and soon after Malcolm began a journey that led him through the foster care and corrections systems for the remainder of his childhood and teenage years.
Social, Civil, and Political Work
In 1946, while serving time in prison, Malcolm converted to Islam and changed his surname from Little to X. He chose X as a symbol of the oppression of slavery and as a recognition of the loss of identity that came with enslavement. Following his release from prison, Malcolm X became the chief spokesperson for the Nation of Islam. He was instrumental in growing the membership of the group and became outspoken about the oppression and brutality of the Black experience in America. In 1964, he left the Nation of Islam to found his own organization, Muslim Mosque, Inc., and devote more energy to his role as a leader in the struggle for civil rights.
On February 21, 1965, Malcolm X was assassinated while speaking at an event in Harlem, New York.
Legacy and Memorials
In the years following the assassination of Malcolm X, Rowena Moore, a civil rights activist in Omaha, fought to memorialize Malcolm X and protect his legacy. Beginning in 1968, groups in Omaha began to celebrate Malcolm X Day on May 19th. Although events were well-attended, activities were isolated because the City of Omaha refused to recognize Malcolm X Day or support the efforts.
In 1971, Rowena Moore began the Malcolm X Memorial Foundation and started to develop an initiative to mark the Malcolm X birthplace and create a space on the site to celebrate his life and legacy. It wasn't until 1984 that the Malcolm X Birthsite was listed on the National Register of Historic places, and in 1987, the Malcolm X Birthsite became the site of the first official State of Nebraska historical marker to an African American person.
From Adam Fletcher Sasse's article, A History of Omaha's Malcolm X Day, "Mrs. Moore founded the Malcolm X Memorial Foundation, and in the past 25 years it has acquired 15 acres surrounding the birth site, created a plaza, built an interpretive center and educational memorial, and started a community garden." In the years since the assassination of Malcolm X, many people have celebrated the life and legacy of Malcolm X at a variety of events and gatherings. This year on June 19th, the Omaha Freedom Festival will be held at the Malcolm X Memorial Foundation and Amphitheater at 34th and Pinkney.
Final Thoughts
As we consider the legacy of Malcolm X, I'm drawn to the ongoing struggle for justice that we see being bravely carried on by people all over our country. The celebration of Juneteenth, the legacy of Malcolm X, and the struggle for justice in our current context are all interconnected. I hope you'll follow the links throughout this post to learn more about the life and legacy of Malcolm X from the archives of Adam Fletcher Sasse, the Malcolm X official website, the National Park Service, and the American Experience by PBS.
Finally, I hope to see you at Freedomtainment's Omaha Freedom Festival on June 19, 2021.