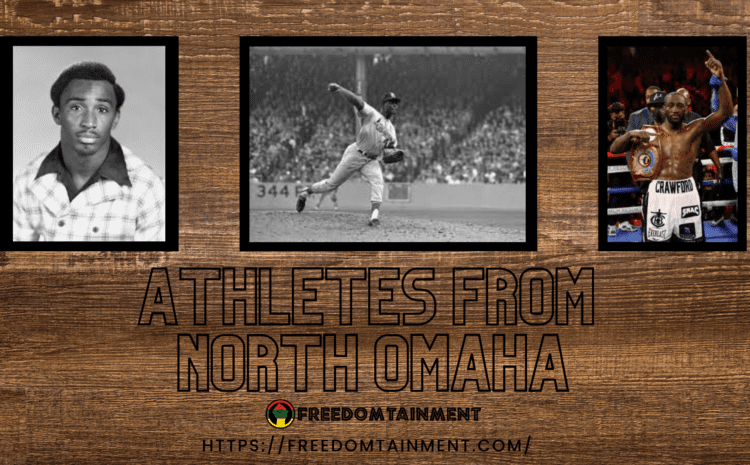 North Omaha Excels In Athletics
By: A student of the University of Nebraska-Omaha, as a part of Heather Nelson's Service Learning Class
North Omaha has produced many athletes that make a big impact in the sports world for decades now. Many of these athletes has become household names to the youth and community of North Omaha and set an example for future generations by showing that it is possible to make a career out of hard work and talent. The impact these athletes left behind still influences the community and they continue live through the young individuals that we have playing sports out of North Omaha today.
Bob Boozer was raised in North Omaha where he graduated the high school formerly known as Omaha Tech. Boozer went to play D1 basketball at K-State and became a 2x All-American there playing against top talent such as Wilt Chamberlain with unwavering momentum. Boozer averaged almost 26 points/game his senior season and appeared in the Final Four. Subsequentially, he became the No. 1 pick in the 1959 NBA draft. Equally important to his career is what he did for Omaha throughout his life. Returning to Omaha, he volunteered at the U.S. Olympic Committee and serviced for the Boys Clubs, Lafern Williams Center (to South YMCA Program Center – Home | Facebook), the OHA (to Home – Omaha Housing Authority (ohauthority.org)), the Urban Housing Foundation, the Omaha Opportunities Industrialization Center, the MCC Foundation (to Metropolitan Community College – MCC Foundation (mccneb.edu)) and the Douglas County Planning Commission helping expand these organizations in the North Omaha community.
Johnny Rodgers also was an athlete coming from North Omaha. Rodgers was born in 1951 and also attended Omaha Tech, where he wore the number 20 on the back of his football jersey. He excelled in the sport of football and went on to play at the University of Nebraska in Lincoln (to https://www.unl.edu/) where he broke the all-time yardage record at the time with 5586 yards in his first two seasons, then won the Heisman Trophy the following season in 1972. Rodgers continued to be a star in the CFL and NFL for many years after that. Upon his return to Omaha, Rodgers had an impact on the culture of North Omaha and became the vice president of business development at Rural Media Group helping young talent get noticed.
Bob Gibson is well known nationally for being one of the greatest African American pitchers to play in the MLB. Gibson was born in 1935 in North Omaha also attending Omaha Tech where he played basketball and baseball. Gibson was so advanced in baseball and basketball he played both when he decided to attend Creighton University ( to https://www.creighton.edu/). Gibson made the decision to stick with baseball and had an excellent pro career with 9 WS appearances and retired in 1975 an eight-time all-star in the national league. Gibson was conducted in the Hall of Fame shortly after his retirement showing it's possible to pursue athletics coming from North Omaha.
Marlin Briscoe was another example of hometown excellence. Briscoe was born and raised in North Omaha, and he kept his talent local with his college career playing quarterback at UNO (to https://www.unomaha.edu/). Briscoe's impact in North Omaha made him the first black starting quarterback in the AFL. "The Magician" made a large breakthrough on the sport overall not to mention his commitment to Omaha. Speculators believe Briscoe was a Hall of Fame QB if it wasn't for racism.
Gail Sayers is another athlete coming from North Omaha. Sayers attended Omaha Central High School (to https://www.ops.org/central) where he was known for being the best HB and return specialist of his time. Sayers went on to play college football at KU, the home of the Jayhawks where he was recognized as a 2x All-American. The "Kansas Comet" went on to become rookie of the year with 22 touchdown his first year in the NFL. Sayers was elected to the Lincoln Journal's Nebraska Sports Hall of Fame in 1973 as the first black athlete to be honored there.
Roger Sayers was a track athlete who graduated from Omaha Central (to https://www.ops.org/central) as well. Continuing his education and athletics at UNO where he won championships for the 100-meter dash in 1962 and the 200-meter dash in 1963. He then was selected to participate on the USMNT. Sayers was conducted into the UNO Hall of Fame and the Nebraska Black Sports Hall of Fame. He returned to Omaha for a 26-year career at Union Pacific as the Director of HR. Omaha Central made an article on his contributions stating he serviced as "Board President of both the La Fern Williams Stage Theatre and the Urban League of Nebraska." Additionally, Sayers work with the United Negro College Fund and the Make-A-Wish Foundation of Nebraska." (to https://wish.org/nebraska)
Maurtice Ivy is a women's basketball icon that graduated from Omaha Central High School and went on to play at the University of Nebraska where she won the Big Eight POTY in 1988. Ivy was one of the most athletic players in Nebraska history and was the first to break the 2000-point barrier. She became the second Husker to have her jersey retired in January of 2011 and was conducted into the University's Hall of Fame in the class of 2020. With Ivy's 5'9" stature, she was able to display great athleticism serving as an idol for young women's athletics across the state of Nebraska.
Terrance "Bud" Crawford is the newest addition to world class athletics coming from North Omaha. Crawford is an undefeated World Champion Boxer. Crawford became a professional boxer in 2008 and went on to win 22 bouts in the lightweight class before winning the WBO title. He now holds all the title in his weight class (WBO, WBC, WBA, and IBF). After beating everyone in his class Crawford decided to move up a weight class to the welter weight division where he has yet to lose. As of February 2021, "Bud" was named the #1 pound for pound boxer in the world according to ESPN. Outside of his career Crawford has opened a local children's boxing academy that is free of charge. (to https://tbudcrawford.com)
All the athletes above have made a large impact on the community of North Omaha. Each individual has been able to pave their own way into the world of sports regardless of coming from a relatively small and at times unnoticeable community of North Omaha. From professional careers in sports to community service they have made an everlasting imprint on the community and keeping the young inspired in North Omaha.
Citations:
Legacy of Bob Boozer grows here, elsewhere (omaha.com)
https://www.celebsagewiki.com/johnny-rodgers
https://www.britannica.com/topic/Baseball-Hall-of-Fame
https://www.npr.org/2022/06/29/1108557789/first-black-starting-quarterback-afl-marlin-briscoe-dies
https://en.wikipedia.org/wiki/Gale_Sayers
https://huskers.com/sports/womens-basketball/roster/maurtice-ivy/3960
About Freedomtainment:
Freedomtainment is a 501c3 non-profit organization located in Omaha, Nebraska established to educate, empower and entertain the Omaha Nebraska community about North Omaha Culture while bringing awareness to local, social and business resources. It hosts the Omaha Freedom Festival to celebrate the Juneteenth holiday and the Level Up Career & Housing Fair on Labor Day Weekend.
About Omaha Freedom Festival:
The 2023 Omaha Freedom Festival is taking place on June 17th at the Malcolm X Outside Event Plaza to celebrate the Juneteenth holiday from 12noon – 12midnight to honor the emancipation of those enslaved in the United States. See website for event schedule and how to obtain tickets.
Project Advised by UNO Service Learning Academy
https://www.unomaha.edu/service-learning-academy/index.php