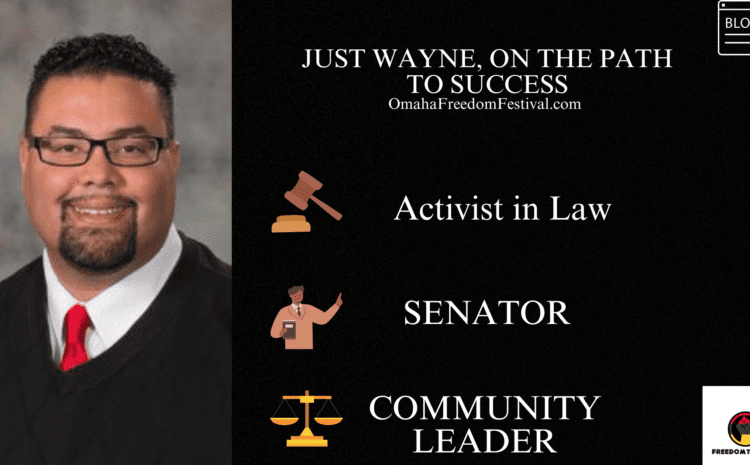 By: Ben Beaudin, A Student at the University of Nebraska at Omaha, as part of Heather Nelson's Service Learning Academy class.
Early Life
Born in Omaha, Nebraska on August 27, 1979, Justin Wayne is an impressive Nebraskan who has served and contributed to our community and state in many ways. Justin Graduated from Omaha Northwest High School in 1998. In high school, Wayne had planned to walk on to the University of Kansas basketball team but he was hit by a drunk driver his senior year which caused a back injury. Even though his dreams were crushed he put his efforts into other goals. Wayne decided to attend Creighton University. He earned his Bachelor of Science degree from Creighton University in 2002.
Post College
After receiving his BS, one of Wayne's former youth basketball coaches who was a Douglas County district court judge encouraged him to attend Creighton's law school. Wayne was unsure at first because he felt like he might feel out of place. That didn't last long and he went on to become president of Creighton's Black Law Students Association and its Student Bar Association. He earned his Juris Doctorate degree from Creighton Law School in 2005.
Actively Pursuing
Senator Wayne is an Attorney and CEO of Trailblazers Constructors, LLC. He not only owns a construction company but his own law practice. Wayne has had a major impact on the Omaha community. He has coached youth basketball for over 20 years. Wayne ran and won a seat on the Learning Community Coordinating Council. He was elected to the Omaha Public Schools Board of Education in 2010 and served as the president from 2013-2014. As the Board president, Wayne played a pivotal role in transitioning a new superintendent.
Senator Wayne's committee assignments in the Legislature are Education, Judiciary, State-Tribal Relations, Justice Reinvestment Oversight (LB605), and Economic Recovery Special Committee. When the Legislature is in session, Senator Wayne is busy with meetings, visiting with his constituents, serving on committees and attending meetings and conferences, conducting research, and attending floor debates and conferences. When the Legislature is not in session, Senator Wayne keeps busy meeting with the people he represents, developing and reviewing bills he plans to support and present in the next session, and conducting a lot of research so he can stay current on issues affecting Nebraskans.
Wayne has supported numerous issues. Wayne's key focus has been on the lack of good jobs, high property taxes, and education. Investing in education he believes can boost the state's economy and prevent more children from ending up in the juvenile justice system.
Senator Wayne's most important work recently has been serving District 13 in the Nebraska Legislature, the district he was born and raised in. Senator Wayne was elected to the Nebraska Legislature in 2016 and was re-elected in 2020. Wayne has said that when making decisions as a senator he is guided by loyalty to the people in his district, the people who have known him his whole life and who are the experts on what is happening in their community.
Some of the Bills that Senator Wayne has introduced are:
LB239 Change individual income tax brackets and rates
LB238 Include virtual school students in the state aid to schools formula
LB455 Requires the State Department of Education to create a grant program
LB794 Adopt the Nursing Incentives Scholarship Act
Senator Wayne enjoys spending time with his wife and his children. He also likes to coach basketball as much as he can. In closing, Senator Justin Wayne has had a positive impact on our community and our state. His commitment and dedication are a testament and an example for future leaders to come.