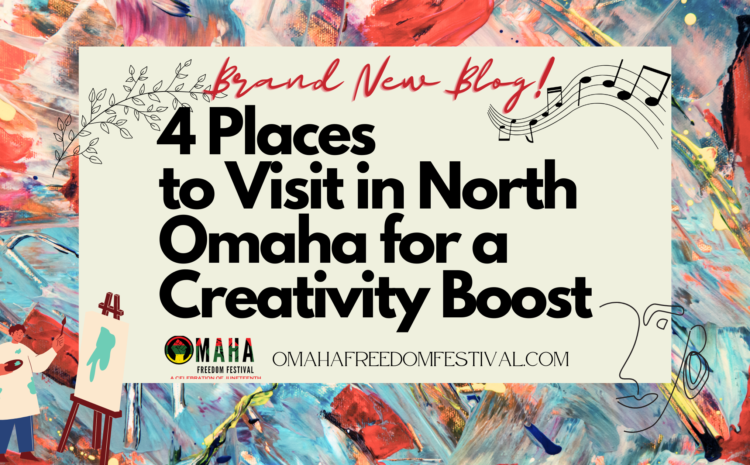 4 Artistically Inspiring Places to Visit in North Omaha for a Creativity Boost
By: VN, A Student at the University of Nebraska at Omaha as part of Heather Nelson's Service Learning Academy class
Do you have a big creative appetite and are currently struggling to satisfy an artistic hunger? The North Omaha neighborhood is a hub of creativity and diversity guaranteed to satiate your creative cravings. As a home to a dynamic art scene, North Omaha is rapidly gaining recognition to be one of the Midwest's premier arts and culture destinations. This historic community will always have something new and impressive to offer if you're looking to broaden your cultural horizons aesthetically. In this post, I will be introducing you to four exciting must-visit spots in North Omaha that are perfect for you to seek inspiration and connection through the arts.
The Culxr House was founded in 2018 by Marcey Yates, a true multi-hyphenate and musician from North Omaha. Yates had originally envisioned it to be a space that would allow him to comfortably express himself with his music fully and loudly. He quickly realized that this safe space could be expanded and shared with other local musicians and artists. The Culxr House hosts many events throughout the year to help local artists showcase their talents such as open mics, workshops, music showcases, and even a painting tournament. The ArtBattle, one of the most notable events that they host, is a live painting tournament where 12 artists will compete with each other for three 20-minute rounds. Think you have what it takes to win ArtBattle? Anyone is welcome to sign up! Check out their Instagram @culxrhouseomaha for more information and ways you can participate.
The North Omaha Music and Arts Academy is dedicated to providing music and arts education to the youth and the community. The academy provides an extensive amount of programs/ clubs such as guitar, piano, and music production. In addition to helping students reach their artistic goals, NOMA aims to provide students with valuable life skills such as teamwork, discipline, and leadership. Dana Murray, musician and Executive Director of NOMA, grew up in Omaha. As a result, Murray knows exactly what young musicians of North Omaha will need from The North Omaha Music and Arts Academy. If you think you are ready to unleash your full artistic potential, sign up for a class or club at NOMA! For more information, check out their full schedule and list of clubs at www.northomahamusic.org.
Searching for an arts experience that's deeply rooted in promoting equity, diversity, and inclusion in the arts? The Union for Contemporary Art is the heart of the North Omaha arts community. Founded by Brigitte McQueen Shew in 2011, the mission is to help talented artists in North Omaha have the opportunity to come together, express ideas, and collaborate with one another. Most importantly, the organization strongly believes that art has the ability to make a positive impact on the community as a whole and that art can inspire society to improve for the better. The organization is committed to promoting social justice and community engagement. The Union offers a wide selection of programs such as exhibitions, workshops, artist residencies, and community events that will surely help you to innovate. Their North Omaha Mural Project is one of the most impactful programs as it allows for collective public art to be displayed throughout the North Omaha neighborhood. When visiting The Union For Contemporary Art, you will get the chance to contribute to a more just and equitable world through the power of the arts.
As the only museum in Nebraska devoted to history as seen through the eyes of African Americans, the Great Plains Black History Museum is certainly one of the most important places that everyone should visit in Omaha. It doesn't matter whether or not you are a history enthusiast or an art connoisseur, visiting the museum can be an inspiring and thought-provoking experience for everyone. Visitors to the Great Plains Black History Museum will get the chance to experience many informative exhibits that cover topics such as the Civil Rights movement, the African American pioneers of Nebraska, and the contributions of African American artists and musicians. In addition, the museum regularly hosts events, lectures, films, and performances for all to attend. The museum is filled with art, music, literature, and traditions that have shaped the culture of the Great Plains region. A visit to the Great Plains Black History Museum to immerse yourself in the rich cultural heritage can deliver a new artistic vision and enlightenment. You can book an appointment by calling 402-932-7077 today!
From immersive museums to public murals, and trendy music venues, North Omaha is always ready to spark your creativity. Don't stay stuck in your creative rut, embark on a transformative journey of self-discovery and artistic growth by visiting these four locations today. Make sure that you aren't starving yourself of a life-changing opportunity to delve into new creative horizons. The community will always be welcoming and rooting for you regardless of whether you're a writer, musician, artist, or someone simply seeking an artistic experience to take their breath away. Enrich your artistic palate today by checking out these locations right away!
Citations
"BUSINESS BLUEPRINT EP7 | Changing The Culxr." Youtube, https://youtu.be/OUFeDlxw-tA.
"About Us." The Union For Contemporary Art, https://www.u-ca.org/about.
North Omaha Music and Arts Academy, https://northomahamusic.org/.
Great Plains Black History Museum, https://gpblackhistorymuseum.org/.
About Freedomtainment :
Freedomtainment is a 501c3 non-profit organization located in Omaha, Nebraska established to educate, empower and entertain the Omaha Nebraska community about North Omaha Culture while bringing awareness to local, social and business resources. It hosts the Omaha Freedom Festival to celebrate the Juneteenth holiday and the Level Up Career & Housing Fair on Labor Day Weekend.

About Omaha Freedom Festival :
The 2023 Omaha Freedom Festival is taking place on June 17th at the Malcolm X Outside Event Plaza to celebrate the Juneteenth holiday from 12noon – 12midnight to honor the emancipation of those enslaved in the United States. See website for event schedule and how to obtain tickets.