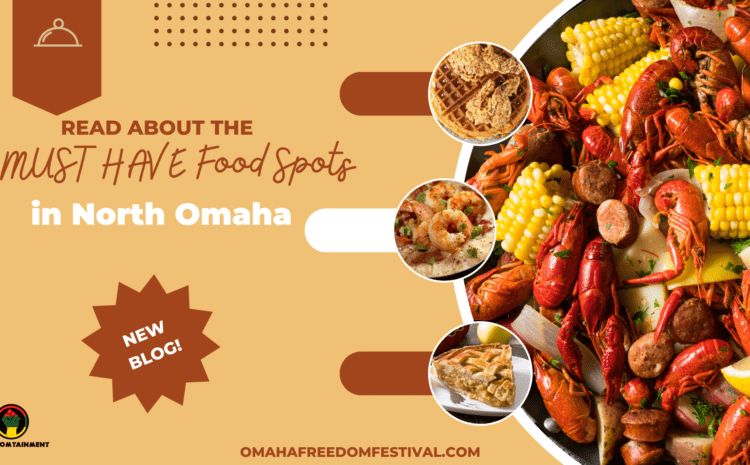 6 MUST HAVE Food Spots in North Omaha
By: JP Sanchez, A Student at the University of Nebraska at Omaha, as part of Heather Nelson's Service Learning Academy class.
Everyone loves a good spot to eat, but sometimes they can be hard to find. Well look no further! This list will list 6 of the best places that you HAVE to stop at and eat if you're in North Omaha. (Not in any order).
This family-owned restaurant located on 3518 N 30th Street Omaha, Ne 68111 has been serving Omaha's best fried chicken since 1971. On top of serving fried chicken, Time Out Foods also serves tasty wings, juicy burgers, and delicious pork sandwiches. Classic barbecue sides are also an option here which includes fries, potato salad, baked beans, cole slaw, and even pie slices! With all these options, you are guaranteed to leave here full, satisfied, and happy! Time Out food also has seasonal options like chili that they only sell during the winter, so make sure to stop by each season to try every option they have to offer!
Big Mama's Kitchen is another family-owned restaurant with tons of mouth-watering food to try. In fact, the food is so good that even Guy Fieri, popular restaurateur, had to make a stop here and feature Patricia "Big Mama" Barron on his TV show, Diners, Drive Ins, and Dives! Big Mama's Kitchen has been in business for almost 17 years and for a good reason! Big Mama serves all the wonderful southern dishes from fried catfish to baked spaghetti, and they even offer a catering/delivery service as well! Make sure to not skip out on dessert with Big Mama's delicious sweet potato pie which is my absolute favorite. If this all sounds good to you, stop in at 2112 N 30th Street, Ste 201, Omaha, NE 68111 and have the best meal of your life!
Located on 2819 N 30th St Omaha, NE 68111, you can find some of the best Cajun food in all of Omaha. Cajun chicken is one of the first Cajun style restaurants to be introduced to Omaha, and they have been feeding North Omaha residents for more than 20 years. Their menu offers catfish prepared in plenty of different ways, ribs, fried chicken and tenders, pork chops, shrimp, and jambalaya. Sides include southern favorites like collard greens, fried okra, and candied yams as well as onion rings and fries.
This hot spot for soul food originally started as a food truck but made its way into a restaurant fairly quickly because of how spectacular the food is. You can find Lonnell's at 3112 N 16th Street Omaha, NE 68110 and order food that will delight your mouth and soul. Lonnell's Southern Delights has only ever had ONE cook in all its 22 years in business, so you better believe they know their way around the kitchen! Lonnell's menu consists of breakfast and dinner. The breakfast menu has the classic chicken and waffles, polish sausage, chicken fried steak, catfish, and hamburger steak options. You can get either grits or rice with any of these. The dinner option has meatloaf, fried chicken, all kinds of sandwiches/burgers, catfish, and even liver and onions! If you're looking to eat a hearty and delicious meal, this is your place!
Get N Go Fish is a must have for fish lovers! They offer a variety of fried fish to eat including catfish, tilapia, perch, carp, buffalo, and shrimp. The portions here are more than enough to satisfy your hunger, and the prices are very cheap as well! Don't let that fool you though, this fish is jam packed with all the flavor you could ever ask for. Every order is fried hot and fresh on the spot so stop in as soon as you get the chance at 1706 N 24th Street, Omaha, NE 68110!
If you're looking for that wonderful southern hospitality, Southern Spoon is your go to place! Southern Spoon has the best staff in all of Omaha, and the food tastes just as good too! The menu is always changing here, so you just have to stop in for yourself at 3929 Ames Ave, Omaha, NE 68111 to see what they made for the day, but you can always count on the southern staples being there which include homemade mac and cheese, delicious catfish, fried chicken, ribs, meatloaf, and plenty more!
Citations
About Freedomtainment:
Freedomtainment is a 501c3 non-profit organization located in Omaha, Nebraska established to educate, empower and entertain the Omaha Nebraska community about North Omaha Culture while bringing awareness to local, social and business resources. It hosts the Omaha Freedom Festival to celebrate the Juneteenth holiday and the Level Up Career & Housing Fair on Labor Day Weekend.

About Omaha Freedom Festival:
The 2023 Omaha Freedom Festival is taking place on June 17th at the Malcolm X Outside Event Plaza to celebrate the Juneteenth holiday from 12noon – 12midnight to honor the emancipation of those enslaved in the United States. See website for event schedule and how to obtain tickets.