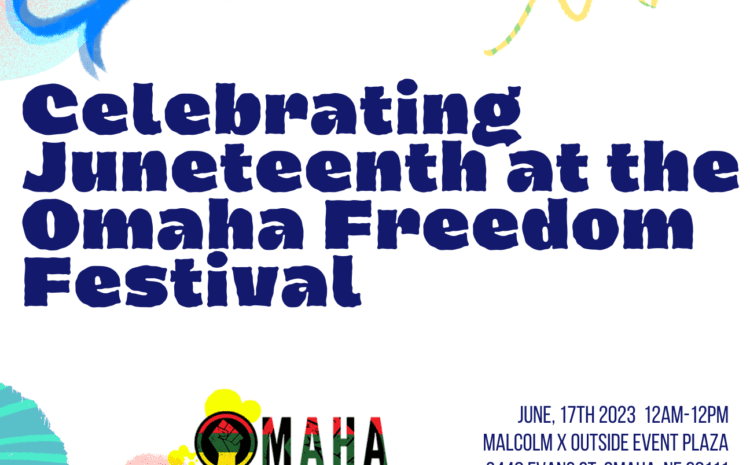 Celebrating Juneteenth at the Omaha Freedom Festival
By:UNO Student, A student at the University of Nebraska Omaha as part of Heather Nelson's Service Learning Academy class
Come and join the most fun event to cerebrate Juneteenth together and deepen your understanding of North Omaha!
Introduction
On June 17th, the Omaha Freedom Festival will be taking place at the Malcolm X Memorial Foundation to celebrate the Juneteenth holiday. This annual event is a commemoration of the day when slavery was officially abolished in the United States.
Activities and Entertainment
The festival will feature a variety of activities, including music performances, food vendors, art exhibits, and a historical tour of the Malcolm X birthsite. It will be a day filled with fun and entertainment for people of all ages.
Juneteenth Celebration Parade
One of the highlights of the festival will be the Juneteenth Celebration Parade, which will start at 10am and proceed through the streets of North Omaha. The parade will feature marching bands, dance troupes, and colorful floats. It will be a great opportunity for the community to come together and celebrate their heritage and culture.
Freedomtainment Stage
Another exciting part of the festival will be the Freedomtainment Stage, which will feature live performances by local and national artists. There will be a variety of music genres represented, including jazz, blues, hip hop, and gospel. Some of the confirmed performers include Musiq Soulchild, Lyfe Jennings, Enjoli & Timeless, Josh Jones, DJ CHAIN.
Food Vendors
Foodies will be delighted by the wide selection of food vendors at the festival. There will be everything from traditional barbecue and soul food to vegan and gluten-free options. Visitors can also enjoy refreshing beverages from the beer garden and cocktail bars.
Historic Malcolm X Memorial Foundation
The festival will take place at the Malcolm X Memorial Foundation, which is a historic landmark in North Omaha. The foundation honors the legacy of Malcolm X, a civil rights activist who was born in Omaha in 1925. Visitors can take a tour of the birthsite and learn about his life and work.
Conclusion
In conclusion, the Omaha Freedom Festival is a great way to celebrate Juneteenth and learn more about the history of North Omaha. Make sure to mark your calendar for June 17th and join in on the fun!
---
Citation
---
About FreedomtainmentLinks to an external site.: Freedomtainment is a 501c3 non-profit organization located in Omaha, Nebraska established to educate, empower and entertain the Omaha Nebraska community about North Omaha Culture while bringing awareness to local, social and business resources. It hosts the Omaha Freedom Festival to celebrate the Juneteenth holiday and the Level Up Career & Housing Fair on Labor Day Weekend.
About Omaha Freedom FestivalLinks to an external site.: The 2023 Omaha Freedom Festival is taking place on June 17th at the Malcolm X Outside Event Plaza to celebrate the Juneteenth holiday from 12noon – 12midnight to honor the emancipation of those enslaved in the United States. See website for event schedule and how to obtain tickets.