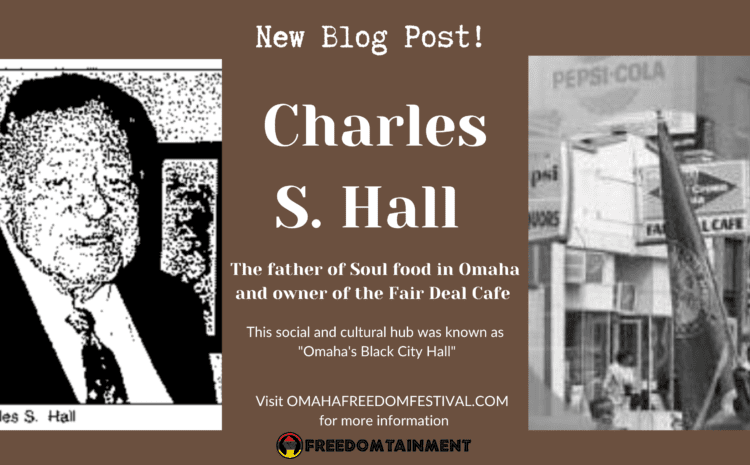 Charles S. Hall – The father of Soul food in North Omaha
By: Cole Gallo, A Student at the University of Nebraska at Omaha, as part of Heather Nelson's Service Learning Academy class.
The Fair Deal Cafe (1954 -2003)
Restaurants, snack shops, dine-ins as well as other places to eat have always played an important role in North Omaha's History, particularly within the African American community. One of the longest and most iconic establishments Black Businesses in North Omaha that served the regular, famous, and hungry was the Fair Deal Café in North Omaha. Other wise known as "Black City Hall", the Fair Deal was located at North 24th and Burdette in the Near North Omah neighborhood from (1954-2003)
In the early 1990s the Fair Deal cafe was owned by a man named Charlie Hall, and this cafe was reputed to be Omaha's only soul food restaurant during that period. During Juneteenth, take the time to support local restaurants that have a rich history in Omaha. Explore these famous and great tasting historical restaurants around North Omaha!
Charles S. Hall – The father of soul food
On a typical day usual all the tables and the counter were packed with people. It was go to after-church meeting place, and was highly-regarded for its candied sweet potatoes. The Fair Deal Café was owned and operated by Charles "Charlie" S. Hall (1930-2009) since it opened in 1954. Run by him and his wife Audentria "Denny" (1933-1997), the Fair Deal was known as Omaha's "Black City Hall" for almost 50 years. It was at North 24th and Burdette in the heart of the Near North Side neighborhood.
Politicians, activists, and community leaders gathered there throughout the years helping Fair Deal Cafe was how it earned its nickname, "Omaha's Black City Hall". It was a social and cultural hub in North Omaha for almost 50 years, and Omaha's only soul food restaurant for at least 20 years. Some of the more notable regulars there included Ernie Chambers, Brenda Council, Ben Gray, Gene Haynes, and other community leaders. Celebrity diners included Ella Fitzgerald and Jesse Jackson.
Tragically, Denny died in 1997. Charlie's wife passed away soon after, and he decided he couldn't keep the place open without her and sold it. The new owner closed it in 2003. Charlie Hall passed away in October 2009.
The Past's Future
The cafe building and site were bought by the Omaha Economic Development Corporation in 2008. In 2010, there was a plan for an arts district around the cafe that was anchored by the building.
In Summer 2011, the Empowerment Network announced a $1.43 billion North Omaha Village Revitalization Plan approved by the City of Omaha. As part of the plan, a redeveloped Fair Deal Cafe will become the showcase of the new "Fair Deal Urban District".
In late 2016, the Omaha Economic Development Corporation (OEDC) opened a new facility on the corner of North 24th and Burdette Streets. Its called the Fair Deal Village MarketPlace, and its address is 2118 North 24th Street. The first of its kind in Omaha, Fair Deal Village MarketPlace sits on what was once 2118 North 24th Street and is now a series of shipping containers, reimagined and redesigned as retail spaces. Today, Fair Deal Village MarketPlace is alive and thriving as home to some of North Omaha's most popular businesses and the backdrop to special events all year long
While visiting Omaha during Juneteenth make sure to try out any of the locations listed above and let us know what you think by leaving reviews on Yelp and Facebook for the owners to know what your experience was like. We hope that you come again during the College World Series and visit the Malcolm X Memorial Foundation to celebrate the Juneteenth Holiday.
Citations:
A History of North Omaha's Fair Deal Cafe – North Omaha History
About FreedomtainmentLinks to an external site. Freedomtainment is a 501c3 non-profit organization located in Omaha, Nebraska established to educate, empower and entertain the Omaha Nebraska community about North Omaha Culture while bringing awareness to local, social and business resources. It hosts the Omaha Freedom Festival to celebrate the Juneteenth holiday and the Level Up Career & Housing Fair on Labor Day Weekend.
About Omaha Freedom FestivalLinks to an external site. The 2023 Omaha Freedom Festival is taking place on June 17th at the Malcolm X Outside Event Plaza to celebrate the Juneteenth holiday from 12noon – 12midnight to honor the emancipation of those enslaved in the United States. See website for event schedule and how to obtain tickets.