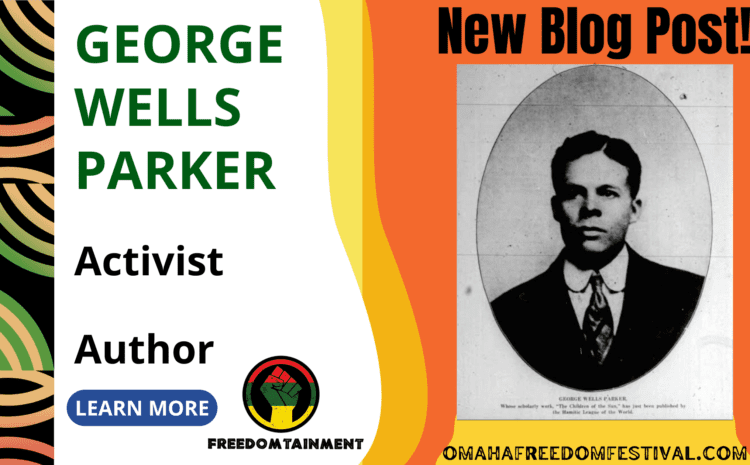 Life of George Wells Parker
NWiebelhaus, A Student at the University of Nebraska at Omaha,Links to an external site. as part of Heather Nelson's Service Learning Academy
Background
George Wells parker was an amazing writer, political activist, and historian that grew up in North Omaha. He captivated the minds of African Americans nationwide by writing articles, starting his own organization, helping people develop a higher way of thinking, and even exposing the KKK. His story is amazing and I'm going to share it with you!
George was born on September 18, 1882, to his father Abraham. George went to school at Omaha high school in the 1890s. After high school, he went to pursue his life. He left the state of Nebraska and went to Howard University in Washington D.C., where he attended for a few years. He then returned to Nebraska, worked as a mail clerk, and later studied medicine at Creighton University.
George's true passion
Mr. Parker was still looking for his true passion and found it when becoming a journalist. Even at a young age, George was a phenomenal writer, winning the Trans-Mississippi and International Exposition competition in Omaha in 1898. Even from this young age Parker focused on Africa as the cradle of civilization and promoted Africans as a great race.
In 1917, George Wells Parker founded an Afrocentric community building called the Hamitic League of the World. The League posted journals that promoted black excellence and equal rights for those of color. The goal of his organization was to, "inspire the Negro with new hopes; to make him openly proud of his race and of its Great contributions to the religious development and civilization of mankind and to place in the hands of every race man and woman and child the facts which support the League's claim that the NEGRO RACE IS THE GREATEST RACE THE WORLD HAS EVER KNOWN."
One of Parker's most well-known works was the Children of the Sun. It was a short analysis of Black culture, the African continent, and how it has influenced the entire world. He promoted evidence that showed that African cultures were more advanced than other countries of their time.
Mr. Wells confrontation and struggles
George was also one of the first people to call out the KKK and inform people of what was happening. He quotes "The Klan is not dying. The Klan is going ahead by leaps and bounds. I receive at my desk fifteen different Klan papers. They are organizing chapters in every hamlet and town. They have set 1935 as the year when they shall take government." He was a brave man to state these facts given the time.
Parker struggled with a lot of mental health difficulties throughout his life but he didn't let them stop him. George went on to continue with his writing career and continued to push other African Americans forward.
We found him a virtual storehouse of knowledge on the race question, especially Black history. His major objective in life was apparently to refute the prevalent racist lies and to build Black dignity and pride. He possessed wide knowledge and seemed to have read everything.
---
---
About FreedomtainmentLinks to an external site.:Freedomtainment is a 501c3 non-profit organization located in Omaha, Nebraska established to educate, empower and entertain the Omaha Nebraska community about North Omaha Culture while bringing awareness to local, social and business resources. It hosts the Omaha Freedom Festival to celebrate the Juneteenth holiday and the Level Up Career & Housing Fair on Labor Day Weekend.
About Omaha Freedom FestivalLinks to an external site.:The 2023 Omaha Freedom Festival is taking place on June 17th at the Malcolm X Outside Event Plaza to celebrate the Juneteenth holiday from 12noon – 12midnight to honor the emancipation of those enslaved in the United States. See website for event schedule and how to obtain tickets.