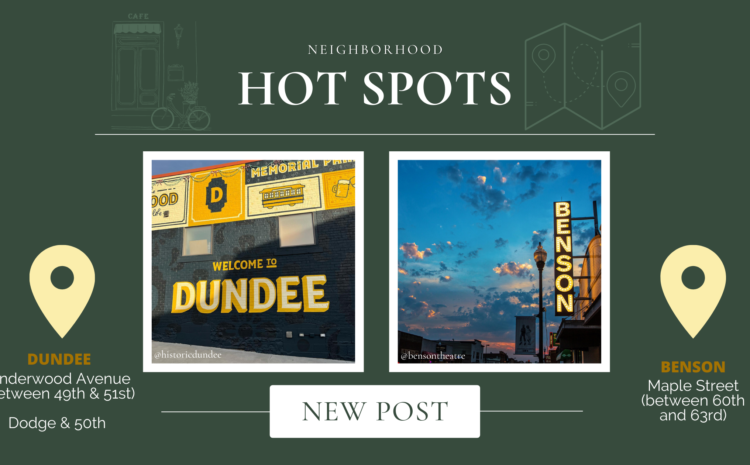 As a newcomer to Omaha, I took the time to explore nearby neighborhoods and thought this would be a great opportunity to revisit some of my favorite areas and highlight a few beloved businesses. Benson and Dundee are two of my favorite historic neighborhoods. If you are visiting for the College World Series or just a long weekend, I encourage you to check out one, or both, of these hidden gems a few minutes' drive North-West from downtown Omaha.
Dundee and Benson were both established as their own towns in the 1880s and then annexed to Omaha in 1915 and 1917, respectively. Dundee was first established for the purpose of residential development which is why it is considered Omaha's first suburb. Homes in this area all have distinctive characteristic, unlike most other suburban developments of the era where homes looked uniform. Similarly, Benson grew slowly to become a residential district. Benson's main street, Maple Street, used to have a streetcar running through the middle (discontinued in 1955) which provided transportation from the neighborhood to the city core, all the way to Council Bluffs, IA. You can still see a former streetcar at the Durham Museum in Old Market. While the businesses have changed over the century, the intimate feel of a village within a city remains! Here are some of my recommended businesses to check out in Dundee and Benson.
Recommendations in Dundee
Recommendations in Benson
These are just a few of my favorite businesses that I've had the opportunity to experience personally. The variety of businesses in each neighborhood is one of the aspects I enjoy most when walking down Maple St (Benson) or Underwood St. (Dundee). Each business is producing quality products or services all while maintaining a unique experience for their customer. It keeps me wanting to come back! I encourage you to pop into one of the businesses mentioned above or to visit someone new while exploring Dundee and Benson. There are still many more on my list visit!