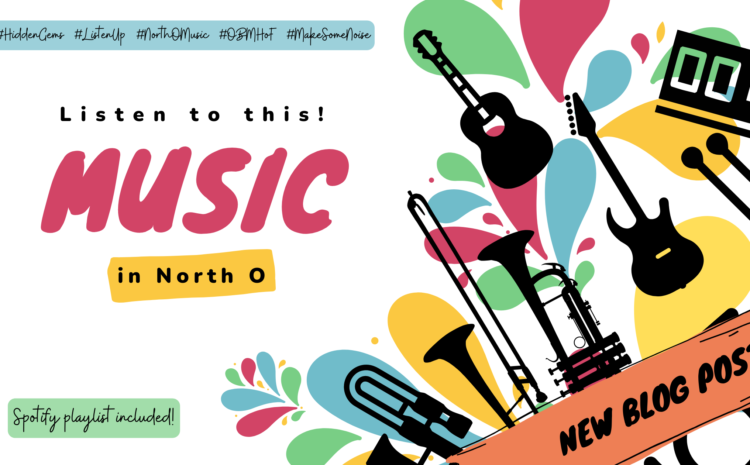 Needing a new playlist for your drive home from work? Looking to spice up your music rotation? Check out this playlist based on music from North Omaha: The Heart of North O. You know, Adam Fletcher said it best in his article A History of Music in North Omaha when he shared, "music belongs to the heart that feels it." I don't know about you, but my day thrives on music and I rarely do a task without it. Adam Fletcher writes such a wonderful article on how North Omaha doesn't write music, they feel it and allow listeners to feel it as well.
Music in North O dates all the way back to 1895! The first noted musical gathering took place on August 1st and had a 50-person choir. Reluctantly, this number tripled by 1927 and the Dan Desdunes Band was introduced to the production. Through the years, vaudeville was a source of music in the community and held performances by bands, singers, singing troupes, instrumentalists and so on. Here are just a few of the many great names of North O's performers and/or teachers:
George Franklin McPherson (pianist)
Florentine "Flora" Frances Pinkston Mitchell (teacher)
Ruth Brown (musician)
Etta James (singer)
Little Esther Phillips (singer)
Johnny Otis (singer)
Jeri Southern (singer & pianist)
Preston Love, Sr. (musician & teacher)
Effie & Charles Tyus ("Omaha Blues")
Anna Mae Winburn (leader of International Sweethearts of Rhythm)
I could go on and on with the amount of talent pouring out of North Omaha. The most notable mention in my opinion is how diverse the music is. It ranges from choirs to solo artists and Jazz to Metal. This deep musical heritage covers soul, blues, hip hop, gospel, pop, punk, a cappella, do-wop, and I'm sure I'm missing a few hidden gems. You can find these gems in clubs, bars, and night spots scattered through the area. If you've never been, I highly suggest checking out these venues that have been the hottest spots in North O's history:
Cleopatra's
Dreamland Ballroom
King Soloman's Mines
Allen's Showcase
Carnation Ballroom
Stage II Lounge
Off Beat Club
Jim Bell's Club Harlem
Johnny T's Bar and Blues
The last tidbit I'd like to share before you check out the links I provide below, or listen to the playlist created above is about the Omaha Black Music Hall of Fame. This was started in 2005 by North O's native Vaughn Chatman. For the last few years and several ceremonies, almost 100 people have been recognized including Lloyd Hunter, Preston Love, Sr., Lester Abrams and many more. I said it above and I'll say it again, North Omaha is holding some hidden gems that I hope you take the chance to discover. Once more, I will share The Heart of North O Spotify playlist so you can check that out on your next drive or in your free time. I hope you find this article helpful and if you'd like more information on the History of Music in North Omaha, Adam Fletcher can share his finds with you.