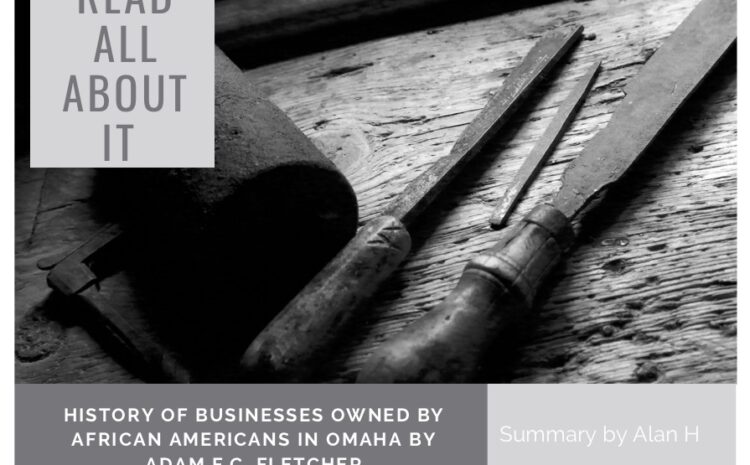 By: A.J., A Student at the University of Nebraska at Omaha, as part of Heather Nelson's Service Learning Academy class.
Background in Omaha
In 1899 The Omaha World-Herald article had reported about 2,000 black owned businesses nationwide but never reported the amount of black owned businesses from Omaha. However, in 1909 John Grant Pegg Established the Omaha Negro Business League to help encourage the black community with business development and to embrace race pride. The first black owned movie production in the USA was stated in Omaha. It mostly made movies that would help other white Americans look at African Americans as the same and would show them in similar roles as white Americans. It later had to be moved to Los angles for the company to expand but the idea had originally come from Omaha. Another big time was Kaffir Chemical Laboratories Corporation which raised 500,000 dollars to manufacture pharmaceuticals, chemicals, drug preparations, and medicines. They also focused on products for African Americans such as hair products and skin care products. A colored commercial club was also established to help African Americans find jobs as well as to help support black owned businesses; it was called Omaha Negro Chamber of Commerce Omaha. Star newspaper was created as a media driver for black owned businesses. In 1932 a report was made that there were only about 94 black owned businesses. Which if we think about it that's not that much, but over the years the number has gotten bigger and bigger.
The First in town
One of the oldest black own restaurants is Time Out Foods at 3518 North 30th Street. They have been open for more than 60 years and they're still bringing great food to the community, and the oldest business is Myers funeral homes, which they have been open for 100 years. It was so hard for Black people to get loans that they open their own bank with the support of the community and the help of their small business they were able to do so they would offer loan and other regular services that the bank would offer but just made it easier for them the service was offer from 1971 until 1992. The smarter the community the better opportunity they have to help with this they also open the first black bookstore on 2416 Ames Avenue in 1971. To read more chick here (North Omaha history)
What you can do
Over time Omaha has really changed and is a community that has such a diverse culture from Hispanics, Asians, African Americans, to Italians. This is great for the community that way we can get to know other cultures and be more open-minded to trying new things outside our normal routine. The next time you want to go out, try something new go for a different culture or part of town you never know you may like it and it can become your favorite. The festival will be located near the Malcom X memorial in North Omaha. This is the perfect example of how you can help small businesses and get to know your community better there will be bands and games and raffles for the community for free. To stay connected with #junetheeth 2021.