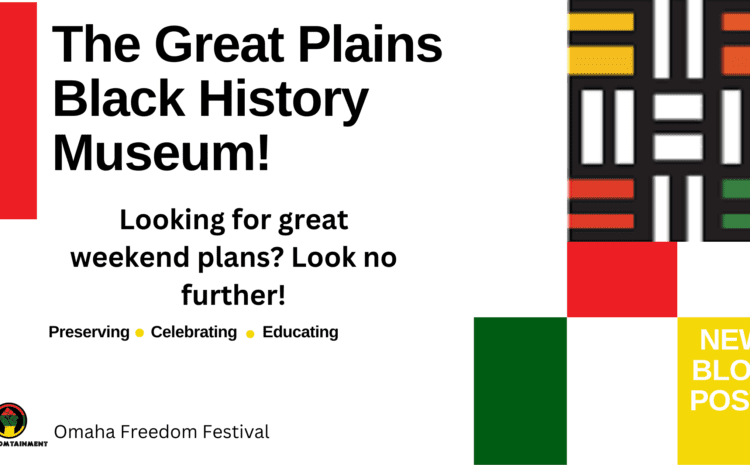 Great Plans at Great Plains!
By: UNO Student, A Student at the University of Nebraska at Omaha, as part of Heather Nelson's Service Learning Academy class
Are you in Omaha looking for something unique to-do? Well, the Great Plains Black History Museum is just the thing for you and the family!
History
The Great Plains Black History Museum was founded in 1975 by Bertha Calloway and was able to open its doors in February 1976 aided by a grant from the Bicentennial Commission. The museum was able to open its doors in the historical Webster Telephone Exchange building. When the museum opened the first exhibition included Ms. Calloway's private collections and donations she had collected over the years. Ms. Calloway had been a prominent figure in the North Omaha community, starting in 1962 when she a group of residents founded the Negro Historical Society. Under Ms. Calloway, the goal of the museum was to teach Nebraskans and other visitors about the contributions of African Americans, especially in Nebraska and the Midwest.
Mission and Vision Statements
Since the opening of the museum their mission has been "To preserve, educate, and exhibit the contributions and achievements of African Americans with an emphasis on the Great Plains region. To provide a space to learn, explore, reflect, and remind us of our history."
The museum has been able to accomplish this through their vision to "collect, preserve, and make available to the public materials documenting the Black experience. To be an educational resource for schools and inspire learning through our permanent collection, exhibits, programs, and educational offerings. To generate growth for North Omaha and to facilitate research, instruction, and artistic expression adhering to authenticity and truthfulness in presentation."
Exhibitions
Throughout the year the museum rotates through exhibitions along with their permanent displays. This year's exhibitions include:
5/5/2023 – 9/27/2023: African American History Through Street Signs

5/5/2023 – 7/29/2023: A Place for all People
6/1/2023 – 6/24/2023: A League of our Own Negro League Baseball
6/30/2023 – 8/5/2023: The Omaha Star At 85 Years and Still Going Strong
8/3/2023 – 9/23/2023: The March on Washington for Jobs & Freedom
11/2/2023 – 12/2/2023: Tuskegee Airmen & Those who Served AA in Military
11/30/2023 – 1/1/2024: The History of Kwanzaa
12/9/2023 – 1/27/2024: Voices of Votes: Democracy in America!
Permanent Exhibitions
Hate & Hope Exhibition
24th & Glory
Museum Information
The current hours of the museum are Thursday through Saturday from 1:00-5:00pm or by appointment. Entry is free for all guests even if you schedule a private tour. They also offer membership for guests that range from $10-$500 to receive special promotions and to also help support the museum. If you would like to learn more about the museum, you can click here.
Great Plains Black History Museum
2221 N. 24th Street
Omaha, NE 68110
402-932-7077
Impact of the Museum on the Community
It is important the Omaha community continues to spread awareness about the Great Plains Black History Museum, to make sure history is not forgotten, especially history in our own communities. "Since its opening, the Great Plains Black History Museum has served as a cultural repository for personal stories and artifacts that capture the abundant history of Black people in Omaha, Nebraska, and the Great Plains region. The museum is a beacon of light amongst an oft-times dark yet vibrant history", Eric Ewing, Museum Director.
Citations
Encyclopedia of the Great Plains | GREAT PLAINS BLACK MUSEUM (unl.edu)
Great Plains Black History Museum | (gpblackhistorymuseum.org)
About Freedomtainment Links to an external site.:
Freedomtainment is a 501c3 non-profit organization located in Omaha, Nebraska established to educate, empower and entertain the Omaha Nebraska community about North Omaha Culture while bringing awareness to local, social and business resources. It hosts the Omaha Freedom Festival to celebrate the Juneteenth holiday and the Level Up Career & Housing Fair on Labor Day Weekend.

About Omaha Freedom Festival Links to an external site.:
The 2023 Omaha Freedom Festival is taking place on June 17th at the Malcolm X Outside Event Plaza to celebrate the Juneteenth holiday from 12noon – 12midnight to honor the emancipation of those enslaved in the United States. See website for event schedule and how to obtain tickets.