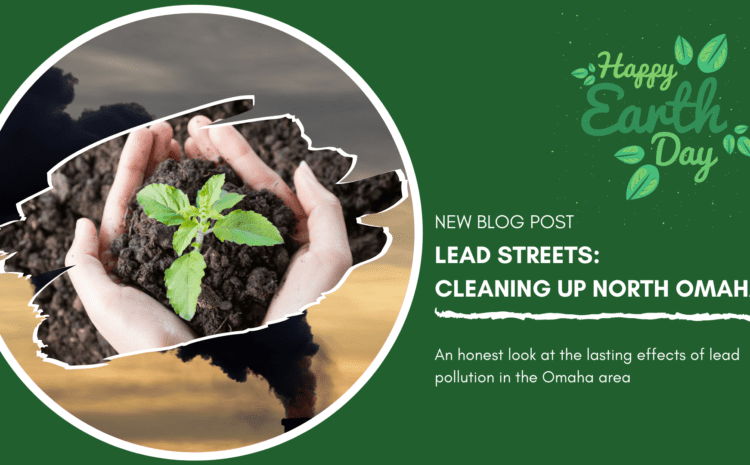 By: Jake de la Montanya, A Student at the University of Nebraska at Omaha, as part of Heather Nelson's Service Learning Academy class.
Earth Day is a particularly important holiday for me, and reducing pollution and waste are critical for maintaining the environment in our communities. Unfortunately, North Omaha has a storied past with pollution. Hundreds of years of pollution from manufacturing companies has left much of the community poisoned by lead. There is still a significant amount of work to be done raising awareness about health effects, companies responsible, and the cleanup efforts in Omaha. Because lead poisoning will continue to affect the next generation of Omahans as cleanup efforts wrap up, raising awareness about this issue is necessary to educate and empower all citizens of Omaha.
Adam F.C. Fletcher of northomahahistory.com has done an extensive amount of researching on this topic to inform Omahans. He provides an in-depth analysis in his article History of Lead Poisoning in North Omaha. In this article, Adam provides some facts and common myths about the lead crisis, a list of the biggest polluting companies, and the health effects resulting from the crisis.
Of the many myths and facts mentioned by Adam, here are some of my favorites:
Myth: "House paint is the only problem."
Fact: "Airborne lead has poisoned every generation of Omahans since 1870; house paint is the last problem the EPA is trying to solve."
Myth: "This only affects North Omaha."
Fact: "There is a 27-mile area affected by this crisis," and "everyone in Omaha is directly or indirectly affected by lead poisoning in older parts of the city."
Myth: "The government doesn't care."
Fact: "The Douglas County Health Department were the first whistleblowers in the Crisis. The EPA has paid $400 Million to fix up Omaha."
Despite the many misconceptions about the lead crisis in Omaha, there is one thing that is certain: Lead is extremely harmful to humans. Adam says that lead poisoning can cause a multitude of different health problems especially in children who are more likely to play in the dirt and touch their mouths. Some of the notable effects range from behavioral problems like hyperactivity, sleep disorders, irritability, and fatigue to physical symptoms like vomiting, kidney damage, and seizures. The full Department of Health Report on Omaha lead can be found here. Lead poisoning can come from a variety of different sources like house paint, but the reality of lead poisoning in North Omaha goes much further than this.
Adam states that much of North Omaha housing is built on top of poisoned land, and polluted emissions from factories caused 130 years of lead-filled-rain. This means for decades lead poisoning has fallen onto the lawns of residents across Omaha taking the form of dirt, mud, or dust. The total cost of lead cleanup (piloted by the Environmental Protection Agency) is estimated at $400 million, and so far only $237 million of that has been traced down and recouped. The cost goes much farther than dollars, however. The health, social, educational, recreational, and familial effects stemming from the lead crisis in North Omaha have and will continue on for generations. To see if your home is affected by lead poisoning, visit the Omaha Lead Registry and search your address.
The first step in empowering the North Omaha community is to educate and raise awareness about the damaging effects of lead poisoning, so I encourage you to read Adam Fletcher's full article here to spread the word. For more education about North Omaha History, be sure to visit the Omaha Freedom Festival taking place on Saturday, June 19th at the Malcolm X Memorial Foundation for the annual Juneteenth celebration!