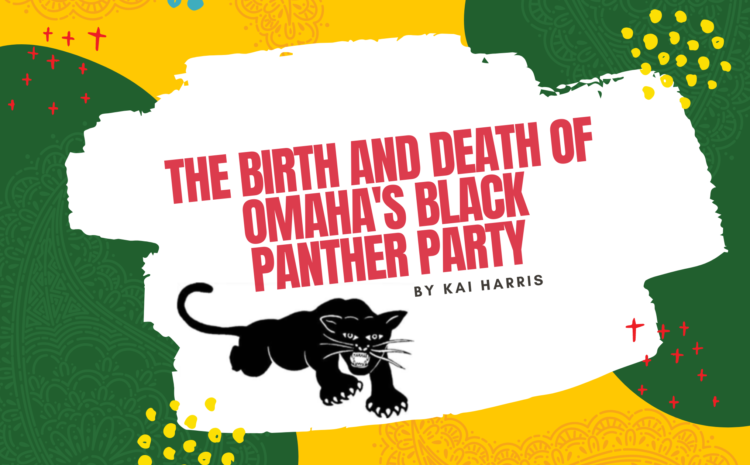 By: Kai Harris, A Student at the University of Nebraska at Omaha, as part of Heather Nelson's Service Learning Academy class.
In honor of Black History Month, Warner Bros. Pictures released a new movie called "Judas and the Black Messiah" that can be watched on HBO Max and also in theatres. The movie paints the story of betrayal and assissination of Fred Hampton, the chairman of the Black Panther Party in Illinois. This movie sparked my curiosity for the Black Panther Party in the city of Omaha, where I reside.
Many people may know some information about the Black Panther Party, or BBP, on a national level, but hardly ever is the Omaha BPP talked about. In fact, I have never heard anything about the Omaha Black Panthers before now. Luckily, the author and curator of North Omaha History, Adam Fletcher Sasse's article, "A History of the Omaha Black Panthers" dives into depth on the life, death, and afterlife of Omaha's Black Panther Party. According to the article, within three years, the Black Panther Party was established, in action, and dismantled. But why was this chapter so much shorter than most other cities? Sasse's article discusses the Black Panther Party's history and legacy.
From the start of the article Sasse states that information on the Black Panther Party is very limited, however with the help of William C, he was able to create a timeline of events for the organization. Since the late 1880s, African Americans in the Omaha community have been dealt the harsh conditions of discrimination and segregation. On July 28, 1966, the Omaha Black Panther Party was founded by Eddie Bowen. Bowen and many members fought to end police brutality and build their community up in several different ways discussed in the article.
Though they were looking to help the wellbeing of North Omaha, the government saw them as a major threat. The FBI began working to deconstruct the Black Panther Party in Omaha in the summer of 1969. According to the article, the FBI worked with the Omaha Police Department to arrest members of the party. Several news stations and newspapers worked to undermine the reputation of the organization, and condemn them for causing the shootings, bombings, and other criminal events that happened in the North Omaha area. This led to the end of the Black Panther Party. Though this was the end of the Black Panther Party, former members soon created new organizations to continue their restless fight for justice.
In the "Ending Omaha's Black Panthers" section of the article, Sasse talks about the imprisonment of Ed Poindexter and Mondo we Langa who were convicted of a crime they lack evidence of committing. This tragic story is told more in depth within the article, and can also be found in Adam Fletcher Sasse's website here.
The original Omaha Black Panther Party no longer remains, but the party's impact on North Omaha endures and their vision for justice and freedom is still being practiced. Though the story of the Black Panther Party in Omaha may seem like a tragedy, the party left a legacy to help their community in ways that simply warm my heart. Breakfast projects, youth engagement programs, and many more organizations were created to create a stronger, more unified North Omaha community through the BPP. To learn more about the rollercoaster of events for the Black Panther Party in Omaha, read Adam Fletcher Sasse's "A History of the Omaha Black Panther Party." The Omaha Freedom Festival (www.omahafreedomfestival.com (Links to an external site.)) will be taking place on Saturday, June 19th at the Malcolm X Memorial Foundation (www.malcolmxfoundation.org (Links to an external site.)) to celebrate the Juneteenth (https://en.wikipedia.org/wiki/Juneteenth (Links to an external site.))