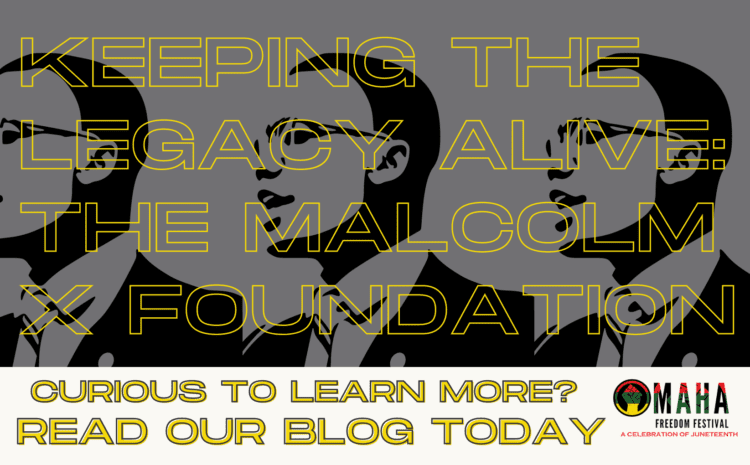 Keeping the Legacy Alive: The Malcolm X Foundation
By: TRISTAN DUIN, A Student at the University of Nebraska at Omaha, as part of Heather Nelson's Service Learning Academy class.
Keeping the Legacy Alive: The Malcolm X Foundation
---
Get ready to experience the trailblazing and powerful legacy of Malcolm X, a prominent figure in the civil rights movement of the 1960s. X has inspired change for this nation's Black citizens, and he is still remembered prominently due to his high-powered speeches and unrelenting advocacy for Black Americans. And still to this day, X's legacy lives on through the Malcolm X Foundation!
Established in 1971 by Rowena Moore, the Malcolm X Foundation is a non-profit organization committed to cherishing his memory and advancing his teachings. Through educational and outreach activities, X's foundation works to spread his message of determination and self-respect!
The Foundation Center
One of the Foundation's most important initiatives is the Malcolm X Memorial Foundation Center in Omaha, Nebraska! The facility serves as an educational center and community hub, dedicated to inspiring and empowering its visitors. Through its interactive and engaging exhibits, Malcolm X's life and legacy have been brought to the 21st century in a method unlike others before.
X's Early Life
But why Omaha? The reasoning behind the Foundation Center being in Omaha is no coincidence. Malcolm X's early life was spent in Omaha, Nebraska, and the city played an important role in influencing his worldview and attitude towards activism. He spent his early years in the predominantly black neighborhood of North Omaha, where he witnessed firsthand the racism that's prevalent in American society to this day. Living in Omaha, Malcolm X took pride in his black identity and became deeply involved in the fight for justice and equality. The Malcolm X Foundation, and the Foundation Center, both act as testaments to X's roots and the ongoing struggle for black liberation in the United States.
Other Foundation Programs
But that's not all – The incredible Shabazz Community Garden and 4MX Greenhouse are two incredible additions to the X Foundation! These lush, outdoors spaces have become a thriving hub thanks to the dedicated volunteers, and they act as truthful testament to X's commitment to community building.
In addition to this initiative, The X foundation also organizes the Omaha-based community radio station Mind & Soul 101.3 FM, which features of a range of engaging music and insightful discussion on current events and other important topics.
Through their work, the Malcolm X Foundation is working to keep Malcolm X's legacy alive and to promote his message of empowerment and self-determination. By educating people about his life and teachings, the Foundation hopes to inspire a new generation of activists and community leaders who will carry on his work.
And there's no reason to wait! It's time to come see for yourself why the Malcolm X Foundation is regarded as an important institution. The foundation has something to offer everyone. It doesn't matter if you're an interested learner, a passionate activist, or someone that's simply interested in viewing the exhibit. Come see the Foundation and discover the life and legacy of Malcolm X!
Important Information Regarding Foundation Center Visitations:
The Center is open to the public; however, its leaders request that individuals sign up for a tour on the Malcolm X Foundation Hour and Admissions website for weekday hours. Weekends are open to the public without scheduling an appointment unless a large organization or group plans to visit.
The Shabazz Community Garden is located on the Northeast side of Malcolm X's birthplace near the Foundation Center.
The 4MX Greenhouse is situated on the main pavilion near X's former birthplace and childhood home
---
References
Memorial: Malcolm X Memorial Foundation: United States. MXMF. (2023). Retrieved from https://www.malcolmxfoundation.org/
Mind and Soul 101.3 FM. Facebook. (2023). Retrieved from https://www.facebook.com/MindAndSoulRadio
---
About Freedomtainment Links to an external site.:
Freedomtainment is a 501c3 non-profit organization located in Omaha, Nebraska established to educate, empower and entertain the Omaha Nebraska community about North Omaha Culture while bringing awareness to local, social and business resources. It hosts the Omaha Freedom Festival to celebrate the Juneteenth holiday and the Level Up Career & Housing Fair on Labor Day Weekend.

About Omaha Freedom Festival Links to an external site.:
The 2023 Omaha Freedom Festival is taking place on June 17th at the Malcolm X Outside Event Plaza to celebrate the Juneteenth holiday from 12noon – 12midnight to honor the emancipation of those enslaved in the United States. See website for event schedule and how to obtain tickets.
---